A History of Excellence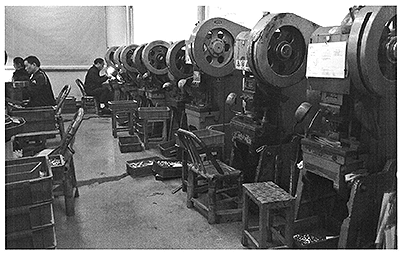 On March, 1985 Wenzhou Yada Bimetal Co., Ltd was founded, it began by creating specialty Clad Metals and Thermostatic Bimetal Parts/Strips to meet the needs of the local industry.

For 30 years, the company has produced more than hundred unique Thermostatic Bimetals that can be tailored to meet the specific needs and requirements of your application.

As of today, the company has designed and developed more than 3,000 various Thermostatic Bimetals based on customer's specifications. The production areas cover a space in total of more than 220,000 sq ft producing more than 4,000 tons' clad metals per year as well as more than 8 Mio Thermostatic Bimetal parts/strips per day.

With an Output of more than 1,000 Mio. per year of Electrical Grade Thermostatic Bimetals, widely used in Circuit Breakers, Appliances, Automobiles and other applications, the company is one of the leading Bimetal manufacturers and suppliers worldwide in this market.

The company continued to grow and in 1991 it started its first manufacturing operation for cladding metals in Shanghai. This new company offered customers the knowledge of metallurgically bonding dissimilar metals, while refining the technology to apply these materials to accomplish various tasks; such as, safety, thermal regulation and controls solutions for the burgeoning electrical, appliance and many other markets.

The process of cold rolled cladding – a process the company developed during the last 30 years – it is possible to combine a significant variety of metals up to 8 layers.

To serve our customers with the highest quality the company is using important raw materials mainly from Japan and Europe.
Historical Points of Interest
› 1985 Wenzhou Yada Bimetal Co., Ltd is founded
› 1991 Shanghai Yinfei Alloy Co., Ltd is formed developing and producing various Clad Metals
› 1995 Wenzhou Yada Bimetals Co., Ltd move to another area based on the demand of a bigger production area
› 2000 Wenzhou Yada Bimetal Co., Ltd supports the first international customers (starting Export)
› 2000 ISO 9001 Certification
› 2006 Shanghai Yinfei Alloy Co., Ltd, relocate to a new production facility within the Shanghai are
› 2014 Shanghai Yinfei Alloy Co., Ltd, moves to a new designed and state-of-the art production and office complex within the Shanghai area
› 2016 Wuhu Yada Bimetal Co., Ltd setting up the new production and Logistic Center in the Anhui Province
› 2017 Wenzhou Yada Bimetal Co., Ltd starts setting up new production and office complex in the Wenzhou area
› 2017 Wenzhou Yada Bimetal Co., Ltd is preparing to implement new distribution and sales offices in the US and Europe supporting the American and European markets